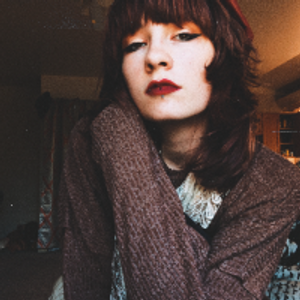 Karaoke with the Mystics
What you might not know about psychics is that they go out to bars, and they get drunk.
They get drunk on the fringes of the room, gather words from edges of surrounding conversations, and then: from within them there comes a rattling.
It is the rattling of unspoken messages, notes, premonitions, ideas, and foresight. It is strong, it is fearsome. Kindness, an intent to help save mankind, smears its mascara into something a touch more desperate and ventures out with an intent voice that speaks with an aim for the souls of strangers.
(This trait of rattling turns many a psychic into recluses, but even those must venture out from time to time)
If you get too close, their shoulders may begin to tremble, like a box with something(vastly alive and curious)waiting within. If you strike up conversation, you have invited an eye from the universe to come look you up and down.
Personally, I enjoy these encounters.
Or I think I do.
The woman is seventy-nine years old, roaring into her eightieth. Her wrinkles make her youthful like a child, as do her dancing hands, as do her missing teeth. She has short hair that hugs her face and curls like a smile.
She takes the role of demanding stranger--what do you do, where do you live, where are you from, when were you born? The shapelessness beneath her lips is set & strong. She says she is Jesus' daughter. She says she saw him at the crucifixion. She asks us what our astrological signs are.
And then she says, "What are you here for?"
And I don't know, or I don't want to say, or the alcohol hasn't kicked in enough. And here is her calling for the night.
She tells me.
Then she staggers off into the cigarette-streaked night air. She pulls a beer bottle from her purse and fills her empty glass with it.
I sit with my new knowledge while the karaoke hosts, who have bowed knees and hunched backs and sterling silver hair, sing Johnny & June together.
The not-so-secret rattling is, I've been a stranger my whole life. People who are drunk in large groups see this fact best.