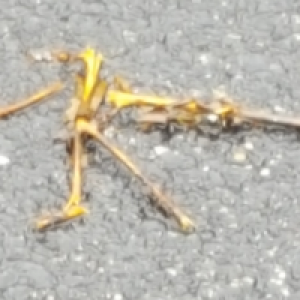 SHATTER (continued)
The air surrounding her body was frigid. Also, something had started to crawl over her body.
She woke up with a start, & tried to scream, but her mouth was missing from her face. Clarah waved her hands frantically back and forth trying to swat whatever was crawling over her skin.
Then she heard the sound of bones crackling not too far from her body. She felt another thing clinging tightly around her legs.
She twisted her body around to get free from these things. Alas, nothing she did worked.
Clarah then felt a sudden wave of energy burst from her palms. She created such an intense blinding light that sizzled the things to a crisp.
She heard a round of applause coming from her backside. The clapping became louder as whoever it was drew nearer to her side.
As soon as the clapping stopped, Clarah yelled out: 'Stay back!'
The thing standing behind her snickered. 'O, what shall become of me once I get struck by whatever it is you just did? Do you even know how to use your gift?'
Clarah sniffled and took a deep breath. 'Uhhmm…yes.. at least I think so—' she said as she finally realized that her mouth was back in its rightful place, and not missing anymore.
The thing stated at Clarah and the burst out laughing, while slowly unraveling Clarah from the invisible threads that were around her body.
She fell down from her mid-air threading trap. How she had ended up in that state she had absolutely no clue.
Clarah thanked her knight, or rather dark shadow being in bony armor. When she turned around the thing charged toward her in a nanosecond.
It stopped directly right before her very eyes, slowly gazing into Clarah's eyes. Never had it seen eyes that seemed to glow like the sun.
The thing stepped back, and asked, 'Who sent you here?'
Clarah gulped and sighed. 'I should be the one asking the questions here!' She was getting tired of whatever this place was.
The thing pulled out a what looked like a watch that had been hidden underneath its armor. Clarah could not tell what the watch was for. It did not have one face, but quite a number of them.
'What is that?'
'What is what?'
'That.' Clarah beckoned at the watch.
The watch vanished from the thing's hold, & landed in Clarah's hands. She stared at the contraption, paying attention to every little arm that was moving at such a rapid speed for Clarah to tell what exactly it was measuring.
The thing yelled out. 'Enough of your magick tricks— hand that back to me- you must be a witch.'
Clarah shook her head. 'I am NOT a witch!'
'Alright then if you're NOT a witch, then you must be a…Oh..'
Clarah raised her eyebrow. 'Well, tell me.'
The thing quickly pulled out more stuff from underneath its armor, and then screamed the moment a book landed on the ground. It used one of its bony fingers to unlock the book.
Clarah waited for the thing to let her know what it was trying to tell her.
It grinned, then looked from the book to Clarah. 'You are definitely NOT a witch.' It closed the book, and started whistling.
Clarah frowned. 'Come on. Tell me what you read in the book. What does it tell you I am?'
The thing shrugged its shoulders. 'I have no clue what the book said. I just wanted to look more wise reading from it. Anyway, let's go.'
'Where are we going?'
The thing sighed. 'You sure do ask a lot of questions. We're off to see the Mfumu.'
'The What?'
'Don't worry. He might not try to eat you, at least once he hears what you can do.'
Clarah followed the thing into a portal that was a bit further away from the spot that she had been trapped in. She was glad to at least have not been eaten by the thing, or whatever else had been waiting to slowly consume her bit by bit.
#SHATTER (c) 28th June, 2022.