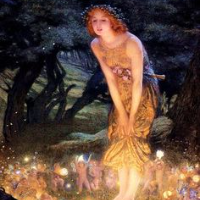 fairyqueen
The story of me is impossible to write in 140 characters, so imagine me to be whatever you wish, and that is what I will become.
Challenge
Name on a napkin
One and Only
2015:
He had been staring at Rosa off and on for the past ten minutes. She sat next to Marie at the shiny, sticky bar, talking about the article she was writing for the magazine, the promising Tinder date she had been on last weekend, how her landlord was an ass who would kick her out if he discovered her cat. And every once in awhile, she glanced back at the man in the booth. He was with four others, two of whom were women, so at least Rosa knew he wasn't some creepy predator. He had accountability. Witnesses. She had sworn off creeps after the cute cashier at the bookstore had started following her around. It didn't hurt that this guy also looked vaguely like James Dean. He slouched into the corner of the booth, laconic in a leather jacket and white t-shirt, twirling a lollipop from one corner of his mouth to the other, occasionally removing it to sip his beer.
His eyes flicked back to her at the bar now and then, taking in her red work-to-night dress, tastefully slit up to just above the knee and exposing a tantalizing bit of caramel thigh. She could feel him looking at her. She just hadn't decided what to do about it yet.
"Marie, you see that guy in the booth? My right, your left in the leather jacket? He's been staring. Do you think I should go say hi? Maybe send him a drink?" Marie's blue eyes darted over, moving in that circular, non-obvious way that is so very obvious to anyone bothering to watch. Which he was.
"That depends. He's cute. Very devil-may-care. What do you feel like doing?"Marie smiled, waggling her blond eyebrows suggestively. Rosa glanced back one more time, taking in the pile of glasses on his table as his friends dug in their wallets and laughed loosely.
"Marie, I think you can go. I'll see you next week."
To a chorus of Marie's "ow-ows" and after a go-get-em slap on the ass, she rose without another word. Rosa strolled over nervously, arriving just as they all started getting up. They looked at her appraisingly, the women nodding at her and the men nudging him.
"Mason, we'll uh...see you tomorrow, man," the tallest of the group said, smirking at him -Mason -before he winked at Rosa. Mason nodded before he turned back to Rosa, not saying anything. He hadn't even gotten up.
"Umm...hi." He stared at her, raising his eyebrows. Even though she had felt them on her all night, this was the first time she could see that his eyes were green. "I was just wondering why you were drinking with that ridiculous lollipop in your mouth. I mean, I've never seen anyone do that before. Why do you -I mean -do it?" Well, that was smooth.
He rolled it across his mouth to the other side. "If I drink something bitter while eating something sweet, it makes both flavors more intense. More extreme. I can appreciate each more. If you sit down, I'll let you try." He glanced from the other side of the booth back to her, a challenge in his eyes. She sat.
"Isn't that kind of -well, gross? Suckers and beer? It's not exactly cookies and coffee." He smiled, and she glimpsed his slightly crooked, overlapping front teeth.
"On the contrary. There are actually some pretty great pairings. This one, for example, is Blue Moon and orange Tootsie Pop."
With one hand, he took the candy from his mouth, a strand of saliva stretching thinner and thinner before it broke, dripping down his full lower lip. He held it out to Rosa. She took it from him, cold fingers brushing his warm ones as her mouth watered. Looking from it to him, she slowly sunk the candy into her mouth, sucking on it and twirling it from side to side in imitation of him. Mason watched hungrily, eyes dilated. With a final suck and as loud a pop as she could manage, she took it out of her mouth and handed it back to him.
"And now," he said, plunking his half-empty glass in front of her, "drink."
****
2016:
Mason sat against the wall on his bed, long legs stretched out in front of him as he watched the clock and waited for the mail to come. It usually came sometime after lunch, but whether or not there would be anything worthwhile was another question. His brother had sent him a wedding invitation. Mason wasn't sure whether that was supposed to be ironic or heartfelt, but he knew that he wasn't going. He wouldn't be going anywhere for awhile.
Bang bang BANG! Some asshole was pounding on the door again.
"Harding! Back corner. You have mail." The asshole guard who insisted on making such a racket every time he opened the fucking door clanked his keys and stomped his feet, giving Mason plenty of time to get off the bed and amble into the corner. The one time he hadn't, the asshole had cracked him in the head. He wouldn't make that mistake again.
Mason stood with his arms crossed, leaning into the white wall as the metal door opened. He had been with other inmates until they had started threatening to rape him. He'd been moved to solitary for his own safety. The asshole guard came in, his beer belly preceding the rest of him. Mason fixed his eyes immediately on the packet of letters he was holding. On the outside, no one ever sent anyone letters. On the inside, it was all they had. Sometimes, Mason would swear the Postal Service was being propped up by the prison system. USPS and USps.
"More fanmail, Harding. I swear, you're a rockstar to some of these poor morons." He tossed the letters on the bed and left again. It was the first time someone had spoken to Mason in -he glanced at the clock -eight hours. He pounced on the letters immediately, shredding the first one open.
Dear Mason,
I was so happy to hear from you -are you sure you're okay? I wish you weren't so lonely. I would keep you company...
Dear Mason,
I just want u to know that I think your inoccint. I should probly introduse myself. I live in NJ and Im a wife and mother...
Dear Mason,
I truly think we were meant to be together. From your last letter, it sounds like we would get along perfectly. I wouldn't mind if you choked me every now and then ;). Please find a few pictures of me enclosed...
One of them was written on an honest-to-God napkin.
Dear Mason,
My name is Annabel Lewis. I promise I'm not one of those silly women who write to inmates, but I saw your picture on the news (the one where you're wearing the blue AC/DC shirt), and I just felt this connection...
There were twelve fan letters today. Four of them were from new women. A couple of them were heinously written, misspellings and atrocious grammar galore. He stopped reading the hate mail, the letters calling him evil and coward and son-of-a-bitch as soon as he realized what they were. There were sixteen of those. But at least answering these women -he had taken to mentally referring to them his flock -would take some time. And God knew he had that.
***
Dear Rachel,
Of course you're the only one I write to. My one and only...
Dear Greta,
It means so much to me that you think of me as much as I think of you. Never before have I felt so understood. I, too, believe that we would be exactly suited for one another...
Dear Lucia,
I know you are just fourteen but you sound so much older...
Dear Alexis,
Of course I'm innocent...
He signed all of them "Your One and Only -Mason."
***
2015:
He had eluded them for so long. His mistake with the Mexican one was that he had fallen asleep after, and somehow -somehow -she had managed to saw her wrist ties off on a tree branch. By the time he woke up, there were cop cars on the road down to the shed, and he could only run so far with bare feet before they caught up to him.
It was unfortunate that he had chosen to take her to the shed that night. He could have just chosen his nice, tidy, evidence-free apartment, but instead he had picked the shed. It had been weeks since he had treated himself to the sight of a woman strung up among the trees, spread-eagled in the branches, rivulets of red running earthward. Plus, it had been a full moon -all the better to see you with, my dear. And so he had chosen the shed, with the dumping grounds just a stone's throw from the porch and his Polaroids in their special case on the rusted shelf inside. The cops had found his lovely, decomposed harem when some poor hapless trainee had stumbled across a femur bone. Literally. Apparently, someone had thrown up when they saw the Polaroids. That still made him smile sitting in his cell weeks later.
He actually wasn't sure how many women there were in the woods. Sitting in handcuffs at his arraignment with his lawyers beside him, he counted as the names were read off. Nine. Plus aggravated kidnapping, rape, and "forcible penetration with a foreign object" (ha) for the bitch who escaped. Rosa Perez. At least they didn't know about the others. Although nine was surely enough to put him away for life, if not worse.
***
2019:
After endless appeals and delays, interrogations and interviews, bribery and battery, there was no putting it off any longer. Mason Harding would be executed tomorrow. It had been over three years since he was caught, two since his trial and sentencing. The publicity had died down for awhile, but with the imminent demise of the eminent serial killer, media outlets brought back the old pictures and experts, the footage of female admirers with their "we believe Mason" signs. Psychiatrists attempted to explain the inexplicable.
Mason, who had maintained his innocence during his trial and throughout too many interviews to count, suddenly decided that he wanted to talk. A camera was set up, a famous criminal biographer was called in, and he began listing the locations of what he called his "dumping grounds." By his estimation, he had killed somewhere around forty women. Maybe more.
***
2024:
They made a documentary miniseries based on Theo Winters' biography of Mason Harding. The last episode of the series showed that famous interview between the two men, exactly nine hours before Harding had been executed by lethal injection. Rosa had heard that he mentioned her directly at the end, that man who haunted her nightmares, and she knew that she probably shouldn't watch it. But she needed to.
It took her weeks to work herself up to it, but she finally suceeded at talking herself and her husband into it.
The episode title appeared on a darkened screen, and then there he was. James Dean with his leather jacket and lollipop. Only now he was wearing prison orange and looked slightly haggard. Bags under his eyes. Thin wrists. James Dean on a hunger strike, righteous indignation blazing from his green eyes. She wouldn't watch the whole thing. Rosa told her husband to fast-forward to five minutes from the end, covering her eyes and breathing fast, even here, in the home she had designed to be a haven of comfort and security. When he gently touched her shoulder, she opened her eyes again. He handed her the control, and she pressed play.
"Mason, I just have one more question for you. Why are you admitting this now? You've always said that you're innocent. Why now?"
Mason Harding paused for a moment and smiled, that same slow grin she remembered from the booth at the bar.
"Well. I suppose it's because I don't have any time left. If I want people to know, it has to be now." Theo Winters knit his eyebrows, uncertain.
"I'm not sure I follow. Do you mean that you're sorry for what you did? You have to get it off your chest so families can have closure?" Harding stared at him intensely, arrogance and disbelief twisting his mouth.
"No. More like if I want people to know everything I did, everything I accomplished, I have to tell them now. I waited this long because this way, I know that people will still be talking about me, the police will still be searching." Mason turned directly to the camera, eyes boring into the screen. "When families are informed of what I did to their daughters and sisters, they will think about me. Maybe if there's a little sister, she'll picture me doing the things I did to her instead. When Rosa Perez hears about it, she'll remember every time I touched her, beat her, tied her up, like I'm doing it all again. I'll be the one and only person that makes all those people feel that way, even after I'm dead. And if this interview ever airs, even more people will imagine me and everything I've done. I will be fucking immortal."
The screen freeze-framed on her personal face of evil, and the credits began to roll. Rosa put her head in her hands.