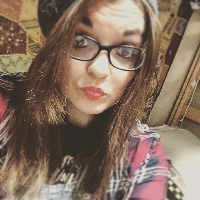 Micaela
I'm a grad student in England from the states. I've studied psychology and creative writing. Since I was a toddler, I've loved writing and r
The Door to the Sky
It was an early Sunday morning with chilled dew still resting on the cut grass outside when I laid on the cold hardwood floor of my family home. My arms outstretched 45 degrees from my head as my fingers reached towards my siblings beside me. They laid with their backs pressed on the floor as well.
We formed a triangle, interlocking our hands as we stared at the above skylight together. The two foot by two foot skylight—enough room for one of our skinny child-sized figures to shimmy through—stared down at us from ten feet above. Even with a chair, we could never dream to reach it. The door to the sky.
The chilly wooden floor numbed our minds, bringing us down from last night's Halloween candy sugar high. It was a strange feeling to feel your pulse slowly pulling back into a normal pulse. To slowly realize you are a mortal again.
My older brother first spoke. "I wanna touch it."
"What? The skylight?" My younger sister asked. "Mom will get mad at you if you break it."
"No," he whispered. "The sky."
"I'm pretty sure she'll still get back at you if you break the sky," she added.
I cracked a smile. "I bet I can get there faster than you."
I could hear his grin in his voice. "You're on," he bet.
Flipped over on my side, I added. "Sucks that you're gonna lose because I'm an inch taller."
"Mom says I'm still growing!"
I stuck my tongue out at him as my younger sister squeezed our hands. "When you reach the sky," she whispered. "Don't forget about me, alright?"
It was seven year later when the three of us separated into different colleges with different degrees. My brother moved to Georgia and planned on majoring in computer science so it could pave his way to becoming an astronaut. I aimed for an aerospace engineering degree and found a tiny apartment in Massachusetts. Meanwhile, my younger sister went across the country to California where she studied art.
In college, we dropped contact with each other. We forget about each other. We forget there was more to us than ourselves. We forget it was the same sun blinding us from above.
I think it was sometime in the late spring that I actually heard word of my sister again. Except, she wasn't the one who contacted me. My sobbing mother was.
We met under the same umbrella. The sky poured down on us, like we were drowning in our sister's tears. Inky black fabric clumped to our skin under the weight of the water. A pastor read in front of our family, his minituature gold cross necklace jostling with every word he spoke and every breath he took.
"We are here today to mourn the loss of Angelica Felix…"
His words were drowned out by the sound of raindrops thudding against my sister's coffin. A few of her latest paintings covered in a clear coat propped up against the coffin, making the only hint of color here from her paintbrush.
My brother didn't say a word to me that day. He just took my hand and squeezed it. Holding his chin up, slightly out from under the umbrella, I couldn't separate his tears from the rain.
Together, we looked up. Gazing at the sky like the clouds would write out the answers for us. Like life would ever become simple like that. As simple as a couple of kids dreaming about what lies above the skylight.
"I guess we know who won the bet," I murmured under my breath as I stepped out from under the umbrella. "I'll meet you up there, okay Angelica?"
I had a feeling she was staring down at us that day. Looking through the skylight. Through the door to the sky. The door to Heaven.